Fundraising Gala  May 10, 2018
The Engine Room, 601 South Madison Ave. Monroe, GA. Watch for your opportunity to register to attend!
News! Our Monroe office has moved!
Our Monroe office has moved to 226 Alcovy Street, Suite E-17 in Monroe. We are very excited as this gives us approximately 3 times the space – more room for Pregnancy Testing, Ultrasounds, STI Testing, Post Abortion Support, and Fatherhood and Life Skills Education (EWYL).
Our Loganville office will remain open in the current location on Hwy 81 S., still offering Pregnancy Testing, Post Abortion Support, and Fatherhood and Life Skills Education (EWYL).
________________________________________________
Pregnancy Resource Center of Walton
Pregnancy Resource Center of Walton provides compassionate care, practical help and evidence-based education to women who believe they're pregnant and who may be considering abortion. We offer help without judgment and a path to Christ, both in word and deed.  All of our services are offered free of charge.
Our Medical Services include Pregnancy Testing, Ultrasound to confirm pregnancy, and beginning in January 2017, STI testing.
Our Support Services include Parenting and Life Skills Education (EWYL), Fatherhood Mentoring (The Family Hero), and Abortion Recovery Assistance.
Impact Walton is an outreach to community schools, teaching Sexual Health and Fetal Development.
 Our New Name
We are transitioning to our expanded medical services and a new name – Women's Health and Wellness Clinic of Walton. These changes will help us better serve our clients and reach more women and men with the Truth of Life! 
Support and Involvement
We want to acknowledge these who served as Underwriters at our 2017 GALA or supported us with In-Kind Gifts.  Please support businesses that support PRCW.
Thank you to Big Hill Foundation, Michael Freshley, Terry and Nancy Queen, Russ and Beth Riescher, Kim Kiser, Dr. Kyle Morris, Arnold Property Management,Acuff Accounting, Paul and Vicki Smith, Stewart Brown, John and Sherah Carr, Franklin and Dale Williams, Ann Holder, Tracy Moyers, Leo and Monica Shjababy, Carmichaels Drugts, Shirley Breedlove, The Fortress, LLC,
     
Are You Pregnant?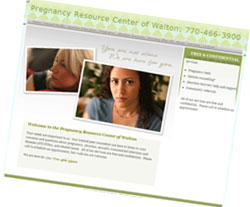 If you or someone you know is pregnant, visit our client web site at www.waltonpregnancy.com for more information or call 770-466-3900 for your appointment FREE OF CHARGE.