2017 Fundraising Gala at The Engine Room
________________________________________________
Pregnancy Resource Center of Walton
Pregnancy Resource Center of Walton provides compassionate care, practical help and evidence-based education to women who believe they're pregnant and who may be considering abortion. We offer help without judgment and a path to Christ, both in word and deed.  All of our services are offered free of charge.
Our Medical Services include Pregnancy Testing, Ultrasound to confirm pregnancy, and beginning in January 2017, STI testing.
Our Support Services include Parenting and Life Skills Education (EWYL), Fatherhood Mentoring (The Family Hero), and Abortion Recovery Assistance.
Impact Walton is an outreach to community schools, teaching Sexual Health and Fetal Development.
Our New Name
We are transitioning to our expanded medical services and a new name – Women's Health and Wellness Clinic of Walton. These changes will help us better serve our clients and reach more women and men with the Truth of Life! 
Support and Involvement
We want to acknowledge these who served as Underwriters at our 2016 GALA. Please support businesses that support PRCW.
Dr. Joshua Dubose          Big Hill Foundation           Klob and Larrison, Attorneys at Law    
Walton Tribune             Stone Mountain Pecan Company  My Drone Aerial Photography 
Acuff Financial Services   Dr. Kyle Morris               Brand & Britt Insurance            
Quality Foods              Lee's Collision Center        Marketing Dimensions International, Inc.
J.S. Owens, Inc.           McCart Plumbing, Inc.         Peach State Federal Credit Union       
Creekside Dentistry        Williamson for Walton       Cup and Saucer Diner
Alcovy Builders, Inc.
These businesses also contributed Gifts in Kind for the 2016 Gala
Carmichaels           Deaton's Gun Shop     Cup & Saucer Diner
Your Local News, Inc  Boss Brothers         Grower's Outlet, LLC
Chili's Restaurant    BB&T Lighthouse Program  Sailors American Made Market
See our News and Events page!
Are You Pregnant?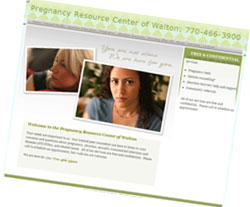 If you or someone you know is pregnant, visit our client web site at www.waltonpregnancy.com for more information or call 770-466-3900 for your appointment FREE OF CHARGE.