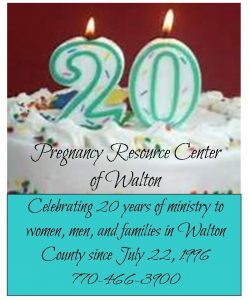 Pregnancy Resource Center of Walton
For the past 30 years, abortion rights and human life have been a political hot button in our nation. Since 1973 when abortion in the US was legalized, over 50 million women have chosen abortion. It is estimated that 43% of all women will have at least 1 abortion by the time they are 45 years old. With numbers that high, the Christian community cannot ignore that there are many walking wounded in our midst and we're still in the battle for the lives of the unborn and the souls of the women facing the life-changing challenge of an unexpected pregnancy.
Pregnancy Resource Center of Walton provides compassionate care, practical help and accurate information to women who believe they're pregnant and who may be considering abortion. We offer help without judgment and a path to Christ, both in word and deed.
Support and Involvement
We want to acknowledge these who served as Underwriters at our recent GALA. Please support businesses that support PRCW.
Dr. Joshua Dubose     Big Hill Foundation     Klob and Larrison, Attorneys at Law     Walton Tribune     Acuff Financial Services     Brand & Britt Insurance                        Dr. Kyle Morris     My Drone Aerial Photography     J.S. Owens, Inc.                   McCart Plumbing, Inc.     Creekside Dentistry     Stone Mountain Pecan Company   Williamson for Walton     Quality Foods     Peach State Federal Credit Union          Lee's Collision Center     Alcovy Builders, Inc.                                                       Marketing Dimensions International, Inc.     Cup and Saucer Diner
These businesses also contributed Gifts in Kind for the Gala
Carmichaels         Deaton's Gun Shop         Cup & Saucer Diner                                      Sailors American Made Market       Boss Brothers      Grower's Outlet, LLC                Chili's Restaurant      Your Local News, Inc      BB&T Lighthouse Program
See our News and Events page!
One in Three
Statistically, one in every three women has experienced an abortion. Our center works to prevent abortions in our community, to encourage abstinence in our youth and singles, and to bring healing to men and women impacted by past abortions.
Won't you carefully consider joining us in this important local missions opportunity?
Providing Alternatives to Abortion
Over 80% of women who chose abortion say if they felt even just one person supported another decision, they would not have chosen to have an abortion. 75% of abortions occur due to concerns about finances, circumstances or relationships. At PRC of Walton we offer practical, compassionate ways to remove the barriers that cause women to choose abortion and provide the opportunity for every woman to make positive choices for herself and for her unborn children.
For women who choose to parent, PRC of Walton provides pregnancy support through medical referrals, parenting classes, and material aid through the Earn While You Learn program.  We also provide information on adoption for clients who want to carry their child, but aren't ready to parent.
Are You Pregnant?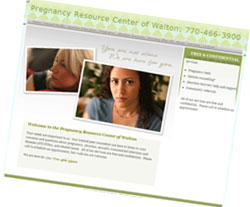 If you or someone you know is pregnant, visit our client web site at www.waltonpregnancy.com for more information or call 770-466-3900 for your FREE and CONFIDENTIAL appointment.